Vacation reset, back to blogging!
Friday August 03, 2012
Welp, I just got back from vacation in San Fransisco and it was a great reset! I'm getting back into the office and all the lists are coming together. The Paradise Tattoo Gathering didn't slow down while I was away, and Brian, Mary, and Rachel have been cranking away here at Off the Map Tattoo offices keeping it all going smoothly. The Gathering's move out west is bringing out a lot of new energy, tattooers, collectors and the excitement is building quite quickly now. Keystone Resort is big enough that it probably won't sell out like previous years, so it's not too late to make your plans and come on out to see what a Rocky Mountain sized Gathering is like!
While in California I was lucky enough to meet up with Adrian Lee who will be teaching his new seminar "One Body" at Paradise. Adrian's massive tattoos speak to the thought and dedication he puts into his proccess that have made his tattoos stand out. His seminar discusses the importance of approaching the body as one form, lessons every tattooer should make a point of not missing. It's an honor to be hosting such an inportant seminar.
One Body
Historical Context
Environment
Building Trust
Large Scale Visualization
Layout
Execution
Q&A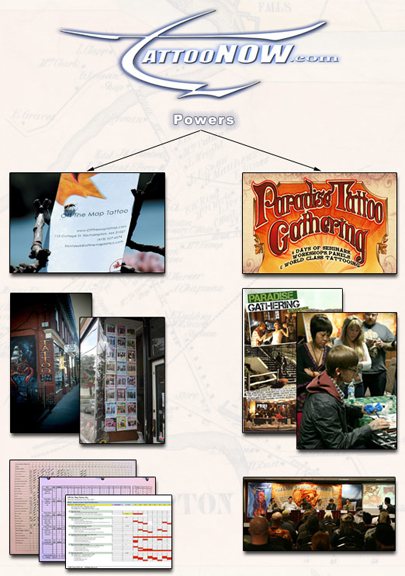 If you are a non-tattooing owner, manager or front room type you should take my class "Building a great tattoo business" at the Gathering. My seminar is great for tattooers too, of course, but it is at the same time as Adrian's, 8-10 Saturday September 15th. Registrations are coming in for both so get your deposit in soon!
Come on out to Paradise, it's a lot of fun and the energy of all the amazing tattooers and collectors is pretty unique. Well worth the trip!
Ok, Im going to keep this blogging up, I swear.